Business Solutions
SME Blended Scorecard
What is SME Blended Scorecard?
Assessing the credit risk of SMEs is one of the most challenging tasks in lending. Creditinfo has demonstrated that business payment behavior is closely intertwined with the payment behavior of SME owners and shareholders.
Creditinfo has designed a highly predictive Blended Scorecard that utilizes the payment behavior of business owners and managers along with company credit data. Blended Score leads to a comprehensive understanding of SME risk!
Creditinfo Blended Score takes your SME assessment to the next level in 3 steps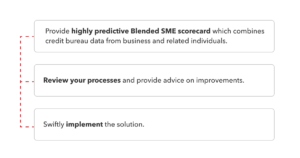 SME Data Sources
Below are some of the data sources combined to come up with the blended score.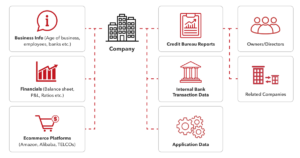 Benefits of a Blended Score
Fast acquisition process
Improve prospecting, operations efficiency, and sales by pre-screening potential borrowers.
Unbiased Informed decisions.
Make informed decisions faster by identifying high-risk customers efficiently eliminating human error and manipulation.
Streamlined portfolio management.
Applied through the entire credit lifecycle, the score supports business expansion, risk migration and portfolio retention strategies.
Effective resource utilization
Streamline operations, lower costs and reduce processing and decision time.
Produce more business.
Identify new profitable opportunities by targeting the right customers, Upsell, or cross-sell to existing customers.
Reduce risk
Identify potentially high-risk customers quickly so you can make more informed business decisions.
Focused decisioning
Credit limits are recommended based on the lenders risk appetite and the loan exposure of SMEs.
Implementation
During implementation, we shall plug into CREDITINFO'S Instant Decision Module  (IDM) solution which:
Ensures automated usage of Creditinfo international experience and best practices in Risk Management​.
Significantly reduces or eliminates the effort needed to assess customers based on Credit Data​.
Unifies and centralizes the evaluation process, eliminates human errors and manipulations.
Stores data for decision-making policies enhancements​.
Custom printouts ensure documentation processing efficiency​.
Creditinfo will walk with you throughout the process and will provide BLENDED SCORECARDS, CONSULTATION AND IMPLEMENTATION.
For more information contact our sales team: saleskenya@creditinfo.com