Skip Trace & Portfolio Monitoring
Skip Trace & Portfolio Monitoring
Addresses and telephone numbers change. Loan contracts get opened and closed, and some go into default, and at times are written off. Save time, money, and effort by automating the process of tracking these changes. Creditinfo's suite of monitoring and skip tracing tools provide prompt, practical and current data that helps portfolio and recovery managers prioritize, collect and be up to date with events occurring in their portfolios.
get in touch
Skip Trace
Creditinfo Skip-trace product is a tool that allows financial institutions to identify and maintain current addresses and phone numbers of their customers, a critical aspect of debt recovery efforts. It provides accurate data from unique sources helping you locate customers, identify the right party contact, and improve your hit rates.
The report contains all information about the searched customer as reported by all credit data providers to the credit reference bureau.
List of Standard Functionalities
Functionality
Description
1.
Skip Tracing
Skip Tracing is performed using standard search options; National ID, Passport, Military Service IDs and Alien IDs.
2.
Skip Trace Report
Report displaying found information on searched client
3.
Data
· All historical names of the subject
· All distinct telephone numbers reported to subject
· All distinct emails
· All distinct addresses
· All distinct employers
· Additionally, for each found employer in the database: All distinct contacts: emails, addresses, and telephone numbers
· Additionally, Skip Trace report contains all contact information for Guarantors and Co-debtors in the same format (value + last updated date) including historical names of subjects.
4.
Validity Dates
Each data item on the report contains two dates: Valid From (Date when information was first reported) and Valid To (empty, if information is still valid).
Delivery
As with all other Creditinfo reports, Skip Tracing can be done through our online web interface or by using our API. The report presentation is in PDF and CSV file for bulk records i.e., 1000+ records.
Portfolio Monitoring
Creditinfo Monitoring is a powerful support tool for lenders. It is a solution designed to automatically informs credit providers about key credit events or changes of their customers elsewhere in the market.
Benefits
Monitoring is useful in the management and collection stages of the credit life cycle.
Monitoring assists lenders by displaying advanced warning of customer risk profile changes.
Assists lenders to take action on their portfolio before critical performance issues take place.
Reduce potential losses
Simplicity
All customers are checked against key rules each night by Creditinfo. Should any rule be triggered an e-mail alert is sent with full details.
How Portfolio Monitoring Works

Creditinfo Monitoring Rules and Parameters*
The alerts are grouped into 3 different categories, each category based on rules and parameters set to alert the lender incase of any changes in each customer's activity in the market.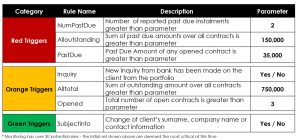 Message Delivery
Monitoring contains an API that allows integration with our system to check for alerts triggered on the portfolio being monitored. The alerts are sent in form of an email which contains the customer's Biodata and a description of the changes that have occurred.
For more information about the Portfolio Monitoring Solution kindly contact our sales team at saleskenya@creditinfo.com