SME Blended Scorecard
SME Blended Scorecard
Creditinfo has designed a highly predictive Blended Scorecard that utilizes the payment behavior of business owners and managers along with company credit data. Blended Score leads to a comprehensive understanding of SME risk!
get in touch
What is SME Blended Scorecard?
Assessing the credit risk of SMEs is one of the most challenging tasks in lending. Creditinfo has demonstrated that business payment behavior is closely intertwined with the payment behavior of SME owners and shareholders.
Creditinfo Blended Score takes your SME assessment to the next level in 3 steps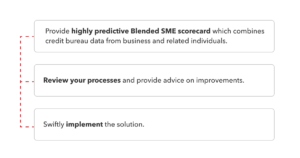 SME Data Sources
Below are some of the data sources combined to come up with the blended score.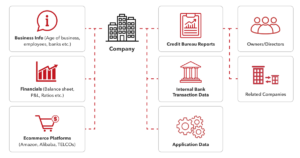 Benefits of a Blended Score
Implementation
During implementation, we shall plug into Creditinfo's Instant Decision Module  (IDM) solution which:
Ensures automated usage of Creditinfo international experience and best practices in Risk Management​.
Significantly reduces or eliminates the effort needed to assess customers based on Credit Data​.
Unifies and centralizes the evaluation process, eliminates human errors and manipulations.
Stores data for decision-making policies enhancements​.
Custom printouts ensure documentation processing efficiency​.
Creditinfo will walk with you throughout the process and will provide BLENDED SCORECARDS, CONSULTATION AND IMPLEMENTATION.
For more information contact our sales team: saleskenya@creditinfo.com